Agents In DIVAs
In DIVAs, an agent is defined as a software entity that is driven by a set of tendencies in the form of individual objectives, capable of communicating, collaborating, coordinating and negotiating with other agents. Each agent possesses resources of its own, executes in an environment that is partially perceived, possesses skills and can offer services.
Agent Architecture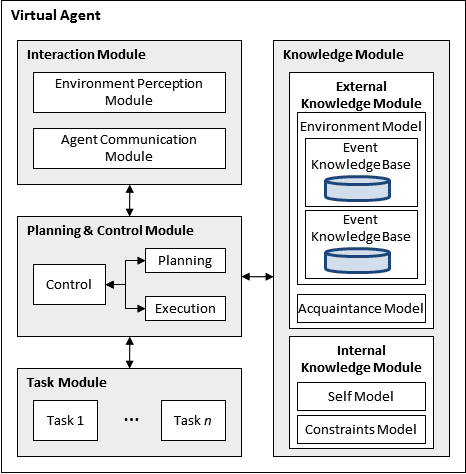 DIVAs' agent architecture consists of four modules:
The interaction module handles the agent's interaction with external entities, separating environment interaction from agent interaction. The Environment Perception Module contains various perception modules emulating human-like senses and is responsible for perceiving information about an agent's environment. The Agent Communication Module provides an interface for agent-to-agent communication.
The knowledge module is partitioned into External Knowledge Module (EKM) and Internal Knowledge Module (IKM). The EKM serves as the portion of the agent's memory that is dedicated to maintaining knowledge about entities external to the agent, such as acquaintances and objects situated in the environment. The IKM serves as the portion of the agent's memory that is dedicated for keeping information that the agent knows about itself, including its current state, physical constraints, and social limitations.
The task module manages the specification of the atomic tasks that the agent can perform in the domain in which it is deployed (e.g., walking, carrying, etc.).
The planning and control module serves as the brain of the agent. It uses information provided by the other modules to plan, initiate tasks, make decisions, and achieve goals.